Picking a new camera is hard.
A quick Google search for "best video camera" returns 12,900,000 results.
Psychologist Barry Schwartz, author of The Paradox of Choice, says that, "Learning to choose is hard. Learning to choose well is harder. And learning to choose well in a world of unlimited possibilities is harder still, perhaps too hard."
If you're here, I suspect that you're read to take your YouTube video game to the next level. To do that, you need some gear. Your iPhone, with all it's capabilities isn't the dedicated video device that you need.
So how do you choose the best camera for YouTube between the vast array of camera types, models, and brands available on the market?
That's what I'm going to talk about today.
How to Choose The Best Camera For YouTube
I'll try to cover this in three parts:
What should you consider first and foremost when shopping for a new camera?
What are your primary options when choosing a camera for creating video content?
What are the best camera options of each style across 5 pricing ranges?
By the end of this piece, I want to help you narrow the field of choices, ease your anxiety about choosing a new camera, and feel confident in selecting the best video camera for your needs.
Let's get into it.
Part One: What key things should you consider when choosing a video camera for YouTube?
To start the process of narrowing down anything, you have to use filters. In this case, you'll want to ask yourself a series of questions about what matters to you for shooting video.
These are 4 fundamental questions that will guide you along the process as you get started.
1) What type of videos do you want to shoot for YouTube right now?
Are you planning to shoot tutorial videos, travel vlogs, starting a workout channel, or case studies for work? Certain camera types are better suited for different types of shoots. It's why a guy like Casey Neistat has SO MANY camera bodies and lenses in his studio.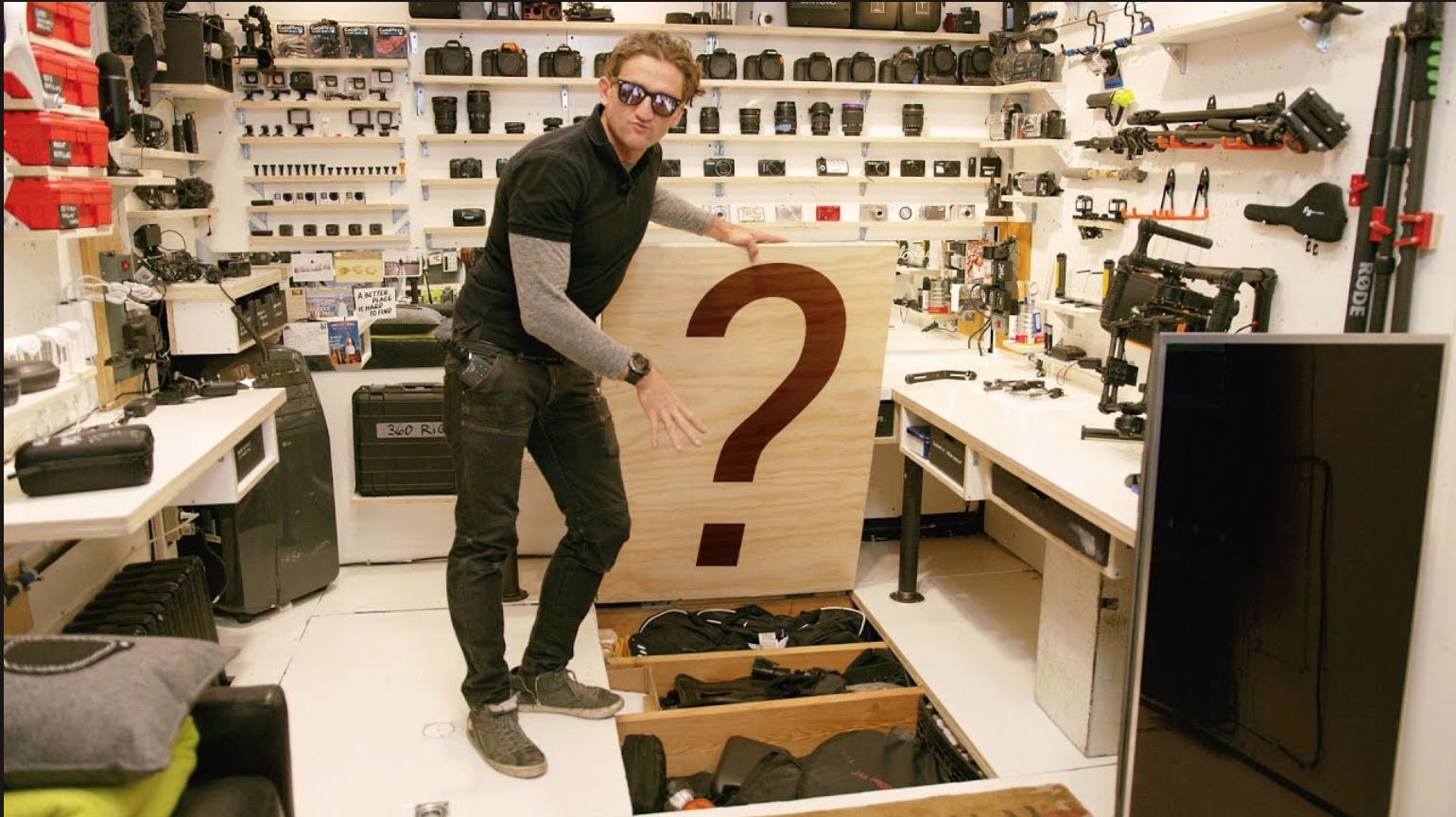 But when he first started he had to choose one camera. Thinking through specifically what you want to shoot will help narrow down your options.
2) Where will you be doing the majority of your shooting?
Will you be shooting outdoors in a variety of lighting situations? Will you be on the move or stationary in your office?
Like the first question, this helps to further refine the direction you want to go in. It also helps you start to thinking about what features on your camera you'll want to prioritize. Portability? Battery life? Memory? etc.
3) Where do you see things going with your video work?
When trying new things it's important to give yourself room to grow. Whether you're just starting off or you're a little more seasoned, you want a camera that you don't "age out" of too soon. You'll save yourself from shopping for new gear again too soon after you've begun.
4) What is the budget you have in mind for a new camera?
This is the obvious one. How much are you willing to spend? You don't want to feel like you have store your camera in bubble wrap or stop eating lunch after you make a purchase?
Knowing what you're comfortable working with budget wise is the last filter to help narrow down your camera options. This keeps you from overextending or spending to much time salivating over gear that's outside your price range.
Essential Features for Your Digital Video Camera
Now that you've got an idea about what matters specifically for you, let's consider what matters for a good digital video camera period.
Sensor Size
There are many different sensor sizes. The most common sensor sizes are full-frame (36×24), APS-C (~22×15), and Micro Four Thirds 4/3 (~17×13) — and lots of compacts are between 1" and 1/1.2".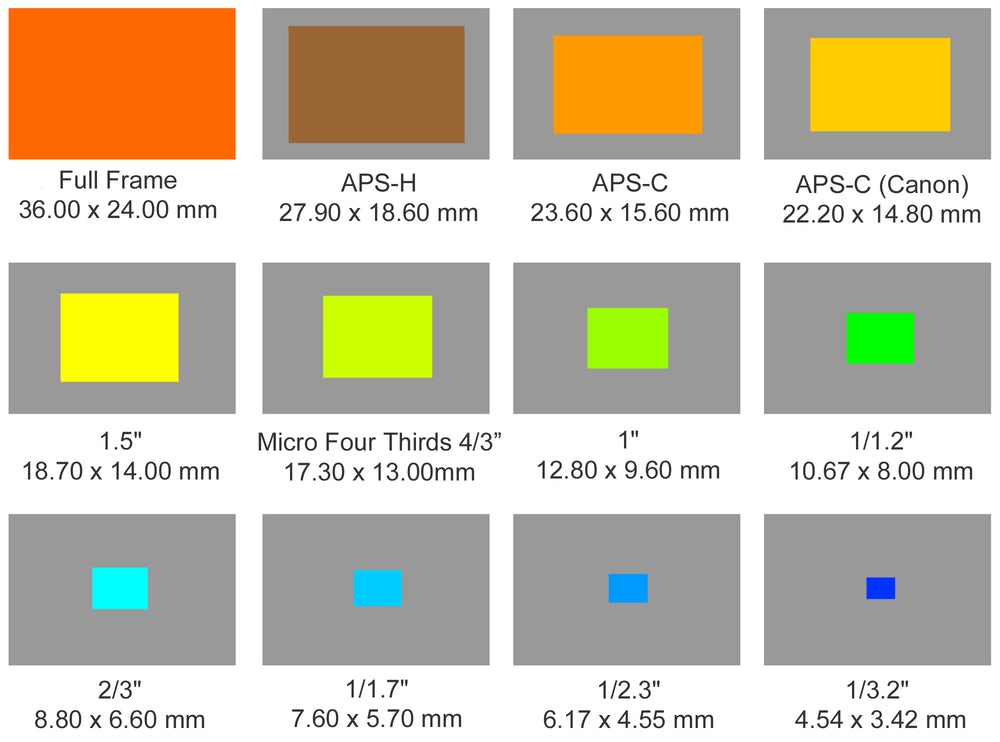 Larger sensors let in more light which means they perform better in a variety of situations. They tend to have higher resolution in the images they produce, too. And the larger the sensor, the better the dynamic range. That means that they create quality images in high contrast settings like sunsets and pick up better on details like shadows.
Lens
For video cameras the lens makes a big difference. When selecting a camera for video, you'll find that some have fixed lenses. That's not necessarily bad as some cameras have high quality, fixed focal length cameras. However, having a camera with an interchangeable lens gives you more flexibility and creative freedom.
Sound
When choosing a camera for photography purposes, sound doesn't matter. But with video, sound is extremely important.
A great shot with poor audio isn't the best combination. Does the camera have a front facing microphone? Does it have inputs for external microphones? Does it have outputs for headphones? It's nice to be able to monitor the quality of the audio you're recording in the moment rather than after the fact.
It's not a dealbreaker as you can monitor and capture audio externally in a number of ways, but for convenience, it doesn't hurt.
Other Camera Features to Think About
Now that you know the primary benefits, lets go over the some others. These features are more important depending on the type of videos you plan to be shooting as well as the environments.
Portability
Cameras vary in size and weight. Some are more compact and slip easily into a jacket pocket, while others are bulkier. If you're going to be shooting travel videos, lugging around a full-frame DSLR might not be ideal. You might want to choose something lighter. 1.5 pounds might not seems like a lot on paper, but trying to hold it level (and steady) for a few takes of a two-minute video clip might be harder than you think.
Image Stabilization
On the subject of holding cameras steady, having a shaky camera can be distracting in a video.
That's what image stabilization is for. Stabilizers inside the camera body or lense reduce the natural camera shake from handheld recording or other movement.
This is especially important for cameras if you'll be zooming in or out. Camera shake increases the further zoomed out you are on your subject.
Autofocus
Autofocus points help the camera to focus on your subject. Cameras can have anywhere from 5 to 400+ autofocus points. More points means that your camera is better at tracking the subject of focus when it's in motion.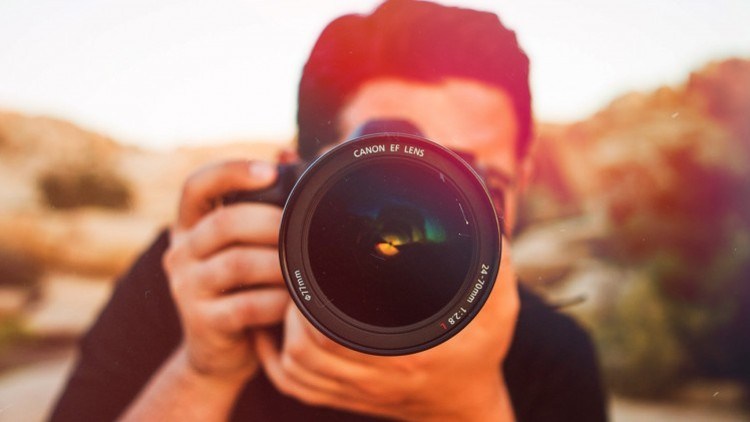 Recording Quality
Most cameras today that offer video capabilities will capture HD video at a minimum of 1080p. The pricier, more impressive models will offer 4K.
Additionally, frame rates are typically between 24 and 60 frames per second (fps). Faster frame rates produce smoother video experiences.
But you don't necessarily want them to be too fast either. Andrew Tarantola of Gizmodo points out that "Live-action movies filmed at 48 FPS tend to have that certain soap-opera effect people hated in The Hobbit."
It's a subjective matter. Depending on the style of video you want to create, that's how you can determine the frame rate that is necessary for you.
Battery Life
Depending on when and where you'll be shooting, battery life is important. If you're on the go, having a camera that can shoot video and last a while doing it, that's ideal. If you're imagining a more stationery shooting situation where you can easily recharge this is less of an issue.
Screen
When creating videos, especially if you're the subject of the video like a vlogger, it's really great to have a camera that allows you to see how the shot is framed up while you're shooting. Many cameras come with the flip screen, but some don't.
There's also the matter of touch. All the cool kids (and cameras) seem to have touch screens these days. They're great for being able to more quickly navigate camera settings, and frame up focus without as much button pressing.
Camera Features that don't really matter
These are a few of the features that sometimes get touted as benefits but only really matter for photography. You're here because you're trying to shoot incredible videos, right?
Flash
For video, you will most likely be leveraging the natural light sources around you. If you are using LED lights or other accessories, they will likely be external to the camera.
Digital Zoom
Some digital cameras — especially compacts — will feature a digital and/or optical zoom. The digital zoom doesn't matter. Only the optical zoom does.
According to Dummies — hah — "Optical zoom gets up close and personal by using an actual lens adjustment and digital zoom adjusts the image in the camera itself".
Keep that in mind.
Megapixels
Megapixels matter most when talking about photography. For video, you should be concerned with resolution.
For context, Studio Daily explain that, "HD resolution is about two megapixels (1920 pixels horizontally multiplied by 1080 pixels vertically gives you 2,073,600 pixels) [i.e. 1080p]. 4K is a little less than nine megapixels.
Anything 8MP or more should be more than enough for video.
Part Two: The primary camera types to shoot video for YouTube?
In this section, I'll cover the three primary camera types that make up good cameras for YouTube. I'll briefly talk about the typical benefits, drawbacks, and uses for each type.
Compact
Compact cameras are great for their portability, recording quality, and ease of use. They're great for travel, and shooting videos when you're the subject.
They're usually going to run you a little less money, too. Although they can get pricey.
Most have a built in zoom feature and sometimes record in 4K.
On the downside, they can be limited in their sensor size, making low light shooting less of an option. In addition, they mostly come with fixed lenses and limited customizability.
Mirrorless
Mirrorless cameras are great for their flexibility, larger image sensors, and light weight (in comparison to traditional DSLRs). Because they don't have the mirror mechanisms like DSLRs, they're have smaller frames, too.
However, they do have interchangeable lenses, full-frame capability, and high-definition recording features.
They can be pricey, though. Especially considering you'll need to purchase an accompanying lens like with DSLRs.
DSLRs
DSLRs are a phenomenal option for shooting video, too. They carry many full-frame options, the widest range of interchangeable lenses, and numerous compatible accessories.
But they can be bulkier than mirrorless cameras because of their structure.
Part Three: Choosing the Best Camera for YouTube
In this section, I selected a quality option for each type of camera in (Compact, Mirrorless, and DSLR) across 5 different pricing ranges.
Premium – Best Cameras for YouTube ($2,000+)
Premium cameras are for more serious videographers, with more experience, and larger budgets. The cameras in this category are full frame, have great dynamic range and perform extremely well in low light.
Leica Q
This fixed focal length (28mm) beauty is probably the priciest compact you'll find on the market. It's 1.7f lens lets you work well in a variety of lighting conditions and capture some compelling video. It is a little large for a compact camera, only shoots at 10 fps, and lacks a hand grip with can make handling trickier.
Sony A7S II
The Sony A7S II is one of the most compelling premium mirrorless cameras on the market. Not only does it record incredibly smooth 4K video, it boasts a lighting quick auto focus, and the ability to pair it with a variety of powerful lenses. Unfortunately, it's got a relatively short battery life (45 min) and doesn't include a touch (or flip) screen.
Canon EOS 5D Mark III
The Canon EOD 5D Mark III is an incredible full-frame camera. It performs well in low light, has a strong dynamic range, and pairs with an array of Canon lenses. The biggest misses appear to be the lack of a flip screen, and lack of in-body stabilization — which can be solved with the right lens pairing.
| | | | |
| --- | --- | --- | --- |
| | | | |
| Camera | Leica Q | Sony A7S II | Canon EOS 5D Mark III |
| Type | Compact | Mirrorless | DSLR |
| Sensor | Full-frame24.2 MP | Full-frame12.2 MP | Full-frame22.3 MP |
| Video Resolution | 1080p, 10 fps | 1080p, 120 fps | 1080p, 30 fps |
| Interchangeable Lens | No | Yes | Yes |
| Max ISO (standard) | 50,000 | 102,400 | 25,600 |
| Microphone Inputs | No | Yes | Yes |
| Headphone Outputs | No | Yes | Yes |
| Image Stabilization | Yes | Yes | No |
| Autofocus Points | 49 | 169 | 61 |
| Display | 3"touchscreen LCD | 3"tiltable LCD | 3.2" |
| Weight | 1.3 lbs | 1.4 lbs | 2.09 lbs |
| Price | $4,250 | $2,498 | $2,399 |
Professional – Best Cameras for YouTube ($1,000 – $2,000)
The cameras in this category might be the strongest overall considering the price-to-performance ratio. If you're working with something intermediate and want to increase your capabilities, you might want to invest in one of these models.
Fujifilm X100F
Fujifilm' X100F comes with a ASP-C sized sensor, can capture RAW video (rare for a compact), and a powerful autofocus system. Most reviews point to it being a more advanced level of experience given it's controls. It's also heavy for a compact. One big difference than most compacts is the ability to use microphone inputs and headphone outputs. But you'll need an adapter for them.
Sony Alpha a6500
This mirrorless camera is one of the most impressive for video on the market. Not only does it shoot 4K video at 120 fps, but it comes with 5-axis in body image stabilization system, and 425 autofocus points. The combination adds up to an extremely smooth and capable camera for video. Sadly, it doesn't include a port for headphones.
Canon EOS 80D
The Canon EOS 80D is the follow up to the 70D, which was was heralded as one of the top video DSLRs on the market when it came out. Beyond it's great dynamic range, it features a vari-angle touch screen, and easy to use controls. It's primary drawback is and that compared to the 70D, it's only a small upgrade.
| | | | |
| --- | --- | --- | --- |
| | | | |
| Camera | Fujifilm X100F | Sony Alpha a6500 | Canon EOS 80D |
| Type | Compact | Mirrorless | DSLR |
| Sensor | APS-C24.3 MP | APS-C24.2 MP | APS-C24.4 MP |
| Video Resolution | 1080p, 60 fps | 4k, 120 fps | 1080p, 60 fps |
| Interchangeable Lens | No | Yes | Yes |
| Max ISO | 12,800 | 512,005 | 12,800 |
| Microphone Inputs | Yes(with adapter) | Yes | Yes |
| Headphone Outputs | Yes(with adapter) | No | Yes |
| Image Stabilization | No | Yes | No |
| Autofocus Points | 325 | 425 | 45 |
| Display | 3" | 2.95"Standard LCD | 3"Vari-Angle Touchscreen |
| Weight | 2 lbs | .91 lbs | 1.4 lbs |
| Price | $1,299 | $1,398 | $999 |
Enthusiast – Best Cameras for YouTube ($500 – $1,000)
The cameras in this category are great if you're ready to expand your capabilities, without expanding the amount you're willing to spend too far. There are some great options for the enthusiast video practitioner in this range.
Canon PowerShot G7 X Mark II
This Canon Powershot is a great option for shooting video on the go. With its f/1.8 aperture, wide ranging focal length (24mm – 100mm), and good image stabilization, it's a versatile option for shooting video. But like most compacts, you can't swap out the lens.
Sony Alpha 5100
The Sony Alpha 5100 is just slightly larger than a compact, but features a APS-C sized sensor, and a max ISO of 25,000. The ability to swap lenses makes it even more portable, too. However, you'll need to get a lens that has image stabilization as the body of this Sony does not. Finally, for a camera of it's quality, missing the audio inputs is a miss.
Canon EOS Rebel T7i
The Canon EOS Rebel T7i is a classic starter option for many that shoot video. With it's APS-C sensor, vari-angle touch screen, and quality video resolution, it's got most of the bases covered for shooting video. Given its weight, it's not as portable as the other options in this category, though. It might be better hooked up on a tripod.
Camera
Canon PowerShot G7 X Mark II
Sony Alpha 5100
Canon EOS Rebel T7i
Type
Compact
Mirrorless
DLSR
Sensor
1"20.1 MP
APS-C24 MP
APS-C24.2 MP
Video Resolution
1080p, 60 fps
1080p, 60 fps
1080p, 60 fps
Interchangeable Lens
No
Yes
Yes
Max ISO
12,800
25,000
25,600
Microphone Inputs
No
No
Yes
Headphone Outputs
No
No
No
Image Stabilization
Yes
No
No
Autofocus Points
31
179
45
Display
3"Tiltable LCD
3"Tiltable LCD
3"Vari-Angle

Touchscreen LCD

Weight
.71 lbs
.62 lbs
1.18 lbs
Price
$679
$548
$749
Intermediate – Best Cameras for YouTube ($200 – $500)
If you working with a smaller budget, but you still want a standalone camera for video, start here.
Panasonic Lumix ZS50
This model from Panasonic comes with quality image stabilization, an optical zoom, and features RAW video format recording. For a compact, that's not always an option. However, it is slightly pricer than similar models from other brands.
Sony Alpha a500
The Sony Alpha a500 comes with a 16-50mm lens, which makes the price even more appealing. Of course, you can swap it for any of the other Sony E-mount lenses. It also has a tiltable touchscreen LCD.
Nikon D5300
The Nikon D5300 is a great entry level DSLR for shooting video. It has a strong 39 point autofocus system, vari-angle touchscreen display, and shoots 1080p video at 60 fps. Of course, being a DSLR, it's heavier than its counterparts in this price range.
Camera
Panasonic Lumix ZS50
Sony Alpha a500
Nikon D5300
Type
Compact
Mirrorless
DLSR
Sensor
1/2.3"12 MP
APS-C20.1 MP
APS-C24.2 MP
Video Resolution
1080p, 60 fps
1080p, 60 fps
1080p, 60 fps
Interchangeable Lens
No
Yes
Yes
Max ISO
6400
16,000
12,800
Microphone Inputs
No
No
Yes
Headphone Outputs
No
No
No
Image Stabilization
Yes
Yes
No
Autofocus Points
23
25
39
Display
3"
3"Tiltable Touchscreen
3.2"Vari-Angle

Touchscreen LCD

Weight
.54 lbs
.59 lbs
1.06 lbs
Price
$279
$395
$489
Basic – Best Cheap Camera for YouTube (Under $200)
If you want a basic dedicated camera for video that performs adequately at a really affordable price look here. You won't find any new mirrorless cameras or DSLR's at this range.
Canon PowerShot ELPH 360 HS
This Canon PowerShot features a 5" LCD display, 12x optical zoom, and at just .32 pounds, weighs even less than an iPhoneX. The camera is lighting fast compared to other inexpensive cameras. The biggest drawback being that it's battery life is less than stellar for its size.
| | |
| --- | --- |
| | |
| Camera | Canon PowerShot ELPH 360 HS |
| Type | Compact |
| Sensor | 1/2.3 "20.2 MP |
| Video Resolution | 1080p, 24 fps |
| Interchangeable Lens | No |
| Max ISO | 3200 |
| Microphone Inputs | No |
| Headphone Outputs | No |
| Image Stabilization | Yes |
| Autofocus Points | – |
| Display | 5" LCD |
| Weight | .32 lbs |
| Price | $199 |
Conclusion
Remember, when you're choosing a camera, the most important things to consider. What are you trying to shoot, where will you be shooting it, and do you have room to grow?
If you answer those questions, you'll start off in the right direction. Then it's a matter of comparing features that matter most to you and selecting a camera in your budget.
Oh, and if you can, try testing the camera out at a retail store or renting before commiting. You only really get a feel for a camera once you've use it a bit.